Is copywriting worth it? A question that echoes in the minds of marketers and businesses alike, transcending the realms of advertising.
In a world inundated with content, does crafting compelling copy truly make a difference?
Let's delve into the nuances and unravel the impact of copywriting on brand success.
Here what is digital copywriting?
Is copywriting worth it?
Yes, copywriting is immensely valuable. It crafts compelling content to persuade, inform, and engage audiences, driving sales and brand success.
Effective copywriting captivates attention, builds trust, and converts prospects into customers.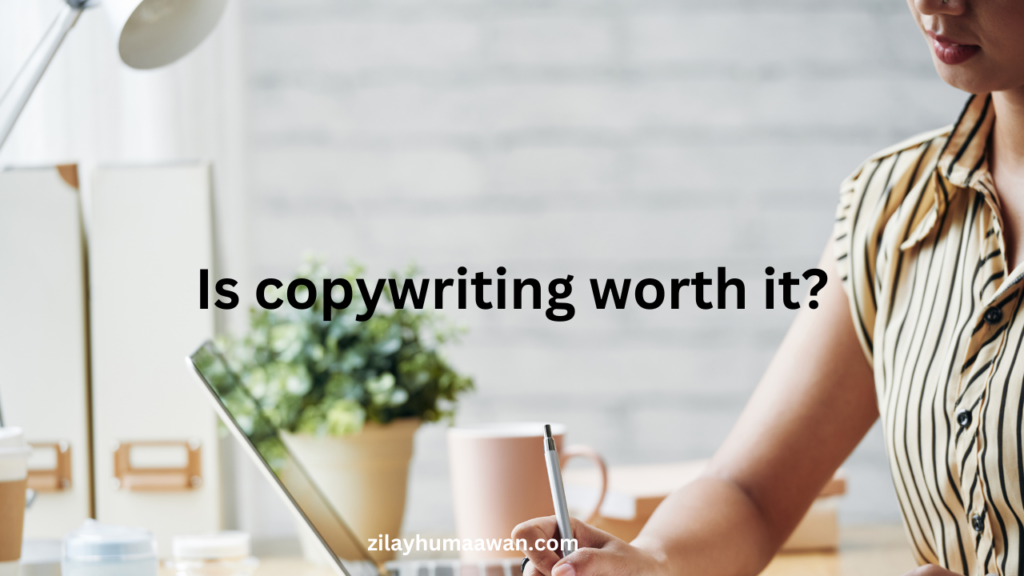 In a saturated digital landscape, skilled copywriting distinguishes a brand, optimizing communication for maximum impact.
Whether in advertisements, websites, or social media, impactful copywriting is a strategic investment that yields tangible returns, making it an essential component of successful marketing and communication strategies.
The threat of AI
The threat of AI looms, with automation encroaching on various industries, including copywriting.
While AI can generate content efficiently, it lacks the nuanced creativity, emotional intelligence, and strategic thinking that human copywriters bring.
Copywriting's essence lies in understanding human emotions, tailoring messages, and creating unique brand voices. The synergy of human intuition and AI's efficiency can enhance outcomes.
Copywriting's worth persists in its ability to inject authenticity, connect emotionally, and adapt to evolving market dynamics—qualities AI struggles to emulate.
In navigating the AI era, skilled human copywriters remain indispensable, ensuring a harmonious blend of technology and creativity for optimal results.
Here difference between copywriting and content writing.
Freelancing or Permanent Roles
The decision between freelancing and permanent roles in copywriting hinges on individual preferences and career goals.
Freelancing offers autonomy, diverse projects, and flexibility, allowing one to dictate their schedule. However, it can lack stability and benefits.
Permanent roles provide security, a steady income, and potential career progression, but may limit creative freedom. Success in copywriting often depends on a balance between personal lifestyle choices and professional aspirations.
Freelancers enjoy independence, while those seeking stability may find fulfillment in permanent positions.
Ultimately, the worth of copywriting in either context lies in aligning the chosen work structure with one's unique career aspirations and lifestyle preferences.
Is copywriting a good career?
Yes, copywriting can be a rewarding career. It combines creativity and communication skills to craft compelling messages.
Successful copywriters can enjoy diverse opportunities in advertising, marketing, and content creation, making it a dynamic and fulfilling profession.
Does copywriting actually make money?
Yes, copywriting can be lucrative. Skilled copywriters are in demand to create persuasive content for businesses, advertising agencies, and online platforms.
Successful copywriters often command competitive fees or salaries, making it a viable and potentially well-paying career.
Is it worth doing copywriting?
Yes, pursuing copywriting can be worthwhile. It offers a blend of creativity and communication skills, allowing for a dynamic and fulfilling career.
Effective copywriters can find ample opportunities in various industries, contributing to marketing success and potentially enjoying both personal satisfaction and financial rewards
Is copywriting still worth it in 2023?
Yes, copywriting remains valuable in 2023.
As businesses continue to emphasize online presence and digital marketing, skilled copywriters are essential for creating compelling content.
The ability to craft persuasive messages and engage audiences is timeless, ensuring the ongoing relevance and worth of copywriting in the evolving landscape.
Conclusion
In conclusion, the question "Is copywriting worth it?" is answered with a resounding yes.
The ability to wield words strategically, create compelling narratives, and connect with audiences on a deeper level makes copywriting an indispensable aspect of modern marketing.